World Projects
Child Health Foundation has projects in the U.S. and throughout the world.
Choose from the tabs below for more details about our projects in that country.
Bangladesh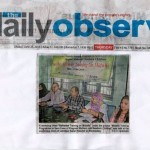 SAVE has trained midwives to facilitate safe deliveries in a community 35,000 who are deprived of health facilities. The service is very much appreciated by the Government health department and they are cooperating. Save has provided 6 training sessions with 25 midwives in each session, also providing them with delivery kits. Then these trained midwives continued to instruct others and they have noticed a reduction in infant and maternal mortality.  Pictured here: An article about the project appeared in a Dhaka newspaper. CHF's name and icon are on the poster.

Underprivileged Peoples' Development Organization (UPPO) worked to prevent air- and water-borne diseases by installing double slab latrines. They were able to install latrines for 66 families in this aboriginal community. They then also get an economic benefit by selling the compost fertilizer manufactured by these unique latrines. They also held 100 courtyard meetings, 4 seminars, and 5 open discussions to build sanitation awareness. An article was run in the local newspaper. The director of the project expressed deep gratitude for our financial assistance and have applied for another grant this year.  (below)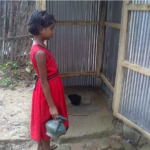 UPPO has installed 50 removable, double-ring slab latrines among selected families with instructions. They have also held courtyard meetings to educate the villagers about health care and sanitation. Water-borne diseases have decreased 35%. The word has gone out and other NGO's have taken up the cause. UPPO completed a similar project in 2014, funded by Child Health Foundation. (see above)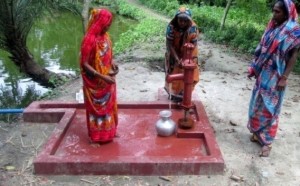 EPRC (Environmental and Population Research Center),financed by Esther Lazarson of New York City has completed the 18th phase of the water project. Their recent report indicates that they have installed 7 new tubewells serving an additional 1250 people, 300 of them children. These folks all live within 50 meters of the wells. The total number served now since the project began in 2003 is 40,000+. Some of the funds were used to install latrines for very poor families to prevent open defecation. Other EPTC funds were used to continue classes for school children unassisted by the government and for education of women since they were now free from carrying water from the river. A volunteer group from each option area, called Women for Environment and Livelihood (WEL) was formed to overlook care of the tubewells as well as being instructed in sanitation and health.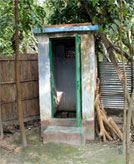 Dip Unnayan Society (DUS), District Bhola, Bangladesh. One of our 2006 Small Grant recipients, set out to improve the health status of poor children through facilitating affordable environmental sanitation projects. They hoped to achieve the 100% sanitization coverage of 15 villages. By involving community based organization, they trained leaders in basic health and hygiene practices such as washing hands, using safe water, and covering food. They discouraged open defecation, encouraging instead the building and use of low-cost latrines, which were demonstrated on site.
As a result of their efforts, 15 villages reached the 100% use of hygienic latrines and maintained them well. They also abided by the instruction to follow the other health practices. The important thing, they say, is that the people see themselves as a community whose members affect and support each other. And now those communities act as facilitators for other communities and so spread the message.
Cambodia
Operation ASHA are combining grassroots care and technology to increase tuberculosis detection in children. Working with the heads of schools in Phnom Penn, they selected 33 schools and the surrounding communities. They conducted awareness training with the teachers and followed that with screening of the students.  When a child is diagnosed positive, they provided a full course of treatment and counselling in the homes. The grant provides 6 months of free treatment. Of the 33 thousand children screened, 53 tested positive; 2 have completed treatment. They also trained 805 teachers on basic facts of detecting TB, treatment and referral information.
Dem and Touch are the two children who have completed the 6 months of treatment after being enrolled in the national tuberculosis program. Both regained their appetites, gained weight and were more active.  ASHA noted finally that the project would not have been possible without the support of the Child Health Foundation. We are of course pleased.
China

Reaching Out to China
Dr. Tim Shi, a Child Health Foundation Board Member and the Executive Director of GlobalMD, along with Board Member, Dr. William Greenough, organized a course for public health workers in China. This was sponsored by the Child Health Foundation.
With the purpose of acquainting them with the current advances in diarrhea management and oral rehydration therapy, the course involved about 300 participants and was hosted by the regional leading pediatrics hospital.
Pre-and post-surveys were done to assess the improvement and the activity was deemed a huge success.
The Country Director of WHO China participated and is interested in collaborating the local Chinese health authorities to further the initiative.
Colombia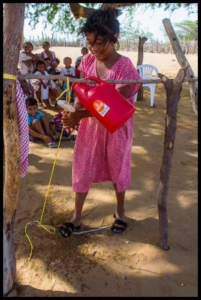 Aguayuda  A project, designed to improve health for children and their families, sought to reduce water-related illnesses.Their results included the successful installation of 196 of the 200 hand washing stations (Tippy-taps), benefitting families of 13 indigenous communities and one school.  This benefited 1,360 people, 600 of them children. Residents of the 13 communities were provided training in water management, proper hygiene and sanitation and the prevention of water-related illness through a series of 5 day workshops, and in 7 of the targeted communities, community WASH committees were established.  In addition, a total of 14 hand-washing training sessions were carried out.  Survey results at the end of the project pointed to a 42% reduction in instances of diarrhea in participating households. This was determined by a survey using a mobile phone app called Magpi.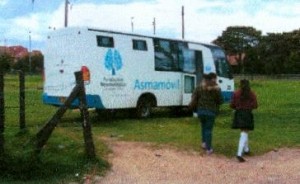 Fundacion NC has a project called Social Responsibility Program. With their Asmamovil, a mobile health unit, in Bogota they screen children in schools to determine risks for respiratory disease. Two public schools were selected to set up the activities and the aim was to improve asthma control, reduce ER visits, and improve quality of life for the children and caregivers. They reported previously that they did screening, baseline medical and lung function, and education. A total of 24 children have now completed the evaluation; others also benefited even though they didn't follow through completely due to various reasons. They discovered that ER visits were reduced from 32 to 1 and days missed from school 127 days to just 11. Questionnaires filled out at the outset and conclusion revealed that improvement of quality of life was statistically significantly for both child and caregiver. Furthermore there was an increase in the knowledge to manage the disease of 30 to 35 percent. They close with this thought, "The program will continue its activities thanks to organizations like CHF who care about the health of communities in need."
Congo
Butoke, in Western Kasai submitted a final report on a program creating a core of resource persons and trainers embedded in the base communities to become competent to enlighten youth and adults on responsible sexuality in the light of faith and science. HIV/AIDS is a very prevalent problem there.
The number of workshops jumped to 16 from a previous 4 with a total of 1400 participants, and they are very well accepted and promote lively discussion. The discussions have also alerted them to the link between human rights of both women and children and the contradictions between the customs and these rights.
They feel that for now they have an adequate number of trainers to go back to their parishes and temples to give sound advice to teens.
A new project being carried out by Butoke has made help possible to women who have been raped. Because of the political tension in this country and the influx of refugees, women have been terrorized, especially by Congolese troops. The organization will care for the raped victims, but also work to prevent rape by organizing broadcasts and face-to-face discussions on the rights of women. Then they hope to help the victims reintegrate into society by giving them micro-credit and helping them to help themselves.
Dominican Rep.
The University of Medicine and Dentistry of New Jersey (2009 Humanitarian Grant) built a bathroom and designed a septic system to improve sanitation for an orphanage housing Haitian refugee children.
Because the flow of refugees from Haiti, still trying to recover from the earthquake and cholera epidemic, has been considered a threat to the Dominican Republic, the government has been deporting Haitians. This has caused them to go undercover.
Yet they have been able to gather additional support for constructing a kitchen and more dormitory space. They say the bathroom construction had the effect of encouraging this support. We are pleased to have had a part in this endeavor.
Ethiopia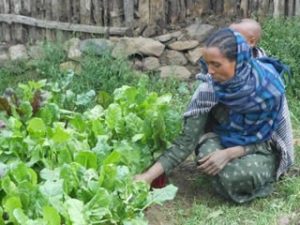 Kossoye Development Project KDP (See below) has completed another project. They came to six conclusions as a result of a study to determine if household gardening is making significant nutritional improvement in children's growth. 900 school children were measured for height and weight. 1. The children in the poorest, rural areas were the most likely to use the seeds to plant gardens.  2. In rural areas, having gardens contributed to eating vegetables, both gardening and eating increasing over time. 3. Females responded more positively than males to the education program. 4. The children most likely to eat vegetables were in urban schools, due perhaps to access to markets, food culture, or to other factors. 5. While evidence demonstrated that the children's heights and weights increased over time, the analysis of this evidence did not establish that having a vegetable garden and eating vegetables affected height and weight.  Further research may tease out a clearer conclusion, especially if data analysis is controlled for age. 6. Finally, the KDP's nutrition and gardening program is effective in increasing vegetable eating and household gardening.  This finding underscores the importance of the education program.  It should be noted that the study was interrupted several times by political conflict.
A 2009 survey discovered that almost 15 million children living in sub-Saharan Africa had lost one or more of their parents to AIDS. The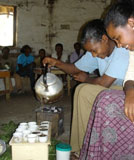 Ethiopian Orphan Health Foundation has reached 91 of these children, living with grandparents, or with someone with a chronic illness, to provide healthcare and health education.
Using traditional coffee ceremonies (a total of 50), popcorn and biscuits, facilitators initiated discussions about HIV/AIDS and reproductive health. The youth felt free in this context to share experiences and learn from one another.

A peer education program incorporated dramas that feature local poems and music about HIV/AIDS, which empowered the youth to discover themselves, their friends, their community and their world.
Four local Community Health Workers were recruited and trained by government leaders to provide health education to children and their families. These CHWs made house to house visits teaching about hygiene, and managing diarrhea, malaria, trachoma, and other health subjects.
This excellent report is on our website in its entirety for your perusal.
Click here to download report >

Kossoye Project in Ethiopia gave tetracycline eye ointment treatment to everyone in the village for 6 days/month for 6 months, and taught them to wash regularly around the eyes and nostrils and to maintain sanitary latrines to control the flies that spread the infections. They have completed another year (2005 and 2006 Small Grants) of their intervention to reduce the prevalence of eye infections (especially trachoma) by 50% in children under age 10.
Their other objectives were to establish early use of oral rehydration therapy (ORT) for diarrheal disease, to train child care givers in preventing malnutrition and to prepare older elementary girls in the ways to prevent sexually transmitted diseases.

The project was a great success, reduction of trachoma prevalence from 94% to 26%, widespread use of ORT, and improved knowledge of STD among. students in the school. The only disappointment has been signs that severe stunting malnutrition has become worse. Hope is that the new interest in vegetable gardens that have been planted will help with this problem. They also provide income for other family needs and are a sustainable way to help families help themselves. They continue to plant gardens with other funds and plan to evaluate the children during the next two years.
Ghana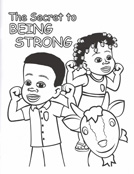 Ghanaian Mother's Hope, (2011 grant): We received their final report which is called "The Secret to Being Strong" and features a coloring book given to children at school to teach them how to control their health to prevent intestinal worms. Debi Frock, the American executive director, says, "The Child Health Foundation grant helped to share the secret of good health with 1,778 children and 150 women." The group also used story and song to promote the message.
Poor Rural Children's Education Aid (PRUCHED AID) in Ghana completed a very successful project to improve the personal hygiene of school children and prevent HIV/AIDS through education. They held five workshops during which 1200 children from ten schools participated in hand-washing with soap, proper tooth brushing, and the important reasons for good personal hygiene. The children were also instructed in the dangers of sexually transmitted diseases, especially HIV/AIDS, and how to avoid them.
Each child was provided with soap, a toothbrush and toothpaste, and the schools were given bowls, towels and table-stands. Creative drama and poetry booklets were prepared for the teachers to take back to their schools to reinforce disease-preventive sexual behavior. Complete report and drama booklet available upon request.
Ghanaian Mothers' Hope, Inc. in Ghana, a 2007 Small Grant recipient, conducted 3 educational information workshops on health, hygiene, first-aid, nutrition and oral-rehydration (ORS). Children were then monitored for one year and an immunization program was provided for those children whose immunizations were not up to date.
The program which included, in part, instruction on breastfeeding and weaning, cooking demonstrations, and hand-washing instruction, as well as disease prevention and treatment with ORS was well received by the mothers who demonstrated a great need for such information. The children whose parents received instruction all gained in height and weight. Visibly, they showed fewer signs of malnourishment.
The Program has had a positive impact on the health of the children and with the involvement of the Ghanaian Health officials, programs like this will continue in other villages.
Watch this video to observe the visuals of this important project.
Guatemala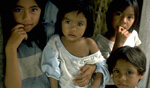 The organization Wuqu' Kawoq has undertaken a study to determine the cause of childhood malnutrition. They enrolled 215 children under the age of 15 and discovered a high rate of stunting, i.e., low height-forage. They have also demonstrated high rates of anemia in children younger than 5 years, and that these data underscore the need to intervene at a much earlier age. Intervening has significantly improved the children's growth.
All children over the age of 6 mo. were given micronutrients and iron as necessary, as well as treatment for worm infection. A caloric supplementation (Incaparina) was also given to those who needed it, supplying about 20% of daily requirement.
Their initial surveillance data has confirmed their hypothesis that child malnutrition is routinely underestimated by reliance on weight-for-age measurement. Having instituted a program that targets stunting in a cost-effective manner, the program has had great success. They are now qualified to be consultants to other NGOs, plan to find funding to continue, and are preparing to publish in medical journals.
India - North

Chapra Social and Economic Welfare Association (SEWA), West Bengal, India called their project Prevention of Endemic Enteric Diseases with Community Participation. They have held 30 group meetings with 600 adolescents in 30 villages for selecting peer leaders. Ten from each village were chosen and instructed on issues dealing with hygiene, toilet habits, and care of food. 1,250 children of 30 villages have been motivated to work with their families on these issues. Some 96% of these children consented enthusiastically to take part in door to door campaigns. The group also held meetings with mothers and pregnant women encouraging them in better food management, boiling water, taking children for immunizations, and registering for safe delivery. As a result 75% of 1862 pregnant women visited health centers for early registration.
SEWA had a project with CHF funding in 2010. (see below)

Chapra Social and Economic Welfare Association very successfully improved the lives of a community by training mothers to train mothers. Some 292 Young Mothers (some pregnant) were involved in the project and as result a group of 94 mothers were trained to assist community mothers in regards to early registration, complete immunization and institutional deliveries.
As a result:
No maternal death has been registered because 94% (145 pregnancy out of 153) were immunized within 12 weeks of pregnancy; No child death was recorded during the year because of timely child immunization, 107 (87%) and exclusive breast feeding (81%); Eighty-one percent (99 out of 122) deliveries were done in the institution during the year and the remaining were done at home by trained Birth Attendants in villages; and 119 (98%) babies received breast milk within 2 hours of delivery. The trust that the community has in this organization is reflected in this success.

Rural Health Organization (RHO) (Manipur) received a 2010 Humanitarian Grant to organize health education covering nutrition, immunizations, and common diseases. They conducted month-long training program to introduce better healthcare skills to local midwives.
They learned to use the blood pressure and thermometer equipment, the importance of sterilizing instruments, and preparation of oral rehydration salts.
Physical exams of children were also carried out (see picture) and parents were given nutritional information, as well as immunization advice. Pregnant women were provided with iron, folic acid, and vitamin A.
On follow-up, it was learned that children's health was better, pregnant women were following nutrition instructions and there have been no reports of maternal death.
India - South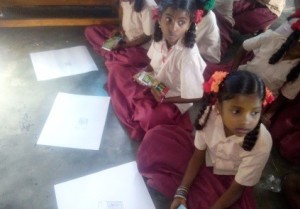 RPDS: (Humanitarian) The objective of this organization was to increase awareness on health and hygiene through education. They were able to reach 400 adults and 360 children by training 20 Community Health Volunteers to hold workshops, visit the slums and hand out pamphlets. They taught preventing enteric illnesses by encouraging the drinking of clean water, storing it properly, and hand washing.

Grampari, Maharashtra, (see previous project below) has worked with 9 new and 4 previous schools, targeting a total of 1,034 students to introduce and follow up with the Tippy-Tap. This hand-washing device has been erected and maintained in 15 villages, 13 schools and 423 homes which means that 63% of the students have built the tippy-tap in their homes. Their target is 70%. "We celebrated Global Handwash Day with fanfare," they wrote. Game stalls and a drawing competition were part of the fun with handwash instructions and demonstrations. 490 students and 29 parents took part. In the photo, the children are singing "Dotsi" a handwashing song.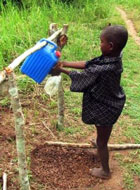 Grampari, Maharashtra, a rural developmental organization, reported a very successful end to their 2011 project. Over 250 children in 5 schools were reached with a hand hygiene awareness program. A health education team visited each school 6 times over 4 months introducing new approaches to promote handwashing, such as the tippy tap (pictured here), skits, demonstrations, and songs. Analysis of the data showed a 24% increase in handwashing, a 14% increase with soap (1 school had a 47% increase). 77 tippy taps were built by students at their homes. Based on these results, they were able to refine the program and conduct it this year for 1900 children in 23 schools. They then posted it on a website (www.tippytap.org) to aid other public health practitioners and are getting responses from all over the world. Student "health ministers" were elected in each school to maintain the tippy tap and see that it is used properly.
Tippy tap is a hands-free, low-cost, water conserving handwashing device. The important feature is that it is FUN! Children use their feet to make the water flow and the soap hangs on a rope. They have another small grant project funded in 2013.

The Rural And Urban Women's Welfare Organisation (RUWWO), Tamil Nadu, set out successfully to educate the community about how to prevent and treat diarrhea. They reached 400 mothers in 20 villages, 500 mothers-in law, and 50 school teachers with lessons about drinking clean water and administering oral rehydration therapy. They also held a training program for 20 water source management workers. By the end of the year, they report that there were no deaths from diarrhea in the past three months in 20 villages. Also, there was a considerable decrease in the belief of unscientific information and bad omen practice.
They expect this change in practice and attitudes to continue because they have in place leaders of self-help groups and periodical inspection of water sources. The good news will pass on to other areas by word of mouth of those pleased with their better health.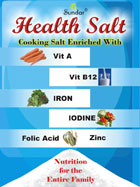 Sundar Serendipity Foundation, Tamil Nadu, conducted a study to determine if using a multiple micronutrient fortified salt in cooking would supply what is needed to prevent anemia.
"Aim: To combat multiple micronutrient deficiencies using a multiple micronutrient fortified crystal salt enriched with Iron, iodine, Vitamin B12, folic acid and zinc.
Methods: A Randomized controlled study on children aged 5 to 17 years and all the women, with the households in the experimental villages being provided the fortified salt and no intervention in the control villages for 8 months.
Results: There was a significant improvement in all the iron parameters and serum zinc in the experimental group when compared with the control. These improvements were statistically significant. There was a significant decrease in the prevalence of anemia from 67.5% to 29.1% and zinc deficiency from 32.7% to 12.4% in the experimental group. There was no change in urinary iodine in the experimental group whereas it decreased significantly in the control group.
Conclusion: The multiple micronutrient fortified crystal salt has been able to reduce the prevalence of anaemia and zinc deficiency and improve hemoglobin, serum ferritin stores, body iron stores and serum zinc and maintain urinary iodine at the same levels in the population which consumed the fortified salt."

Spandan (Odisha) received a grant to determine the effectiveness of the delivery of anthelmentics in the treatment of worms. In their final report they say that they selected 30 sample villages, covering 1000 families (1256 children) aged 1 to 5 yrs . Another 1218 children in another village served as controls. Albandizole was the drug used and it was administered in de-worming camps in phase one in July 2011. When the camps in phase two were held in Feb. 2012, the community was much more cooperative because they could already see that it had taken effect. The results were assessed using weight and height, days of sickness, school attendance, and motivation.
The results showed a significant positive change in the children in the sample village as compared to the controls. The organization will continue to implement the delivery of treatment and efforts are now being made to have the government implement treatment as a part of regular immunizations of children.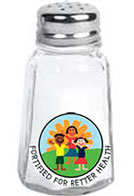 Education and Micronutrients
The Family Health and Development Research Foundation has filed a very impressive final report of their work since they received the 2007 Small Grant. Their randomized study aimed to establish the effectiveness of a multiple micronutrient fortified salt in addressing Vitamin A and other deficiencies in children, compared to health education and traditional health care alone.
Three groups of children (about 215 in each) were studied, the one receiving the micronutrient salt, the second given nutrition education, and the third was the control. All three were given health care.
Laboratory results concluded that both nutrition education and fortification were able to reduce anemia, but retinol deficiency needed the micronutrient salts. The investigators felt that more time with good nutrition is needed to accomplish this. They also hope to publish the study and extend what they have learned to other communities.

Paribartan in Orissa is providing training on the use of zinc therapy to reduce the severity of diarrhea. Twenty villages with a population of about 5,000 were targeted. Seventy-five AHSAs (Accredited health activists) and 60 Community Health Workers were trained, during a 5-day program, to counsel mothers to begin oral rehydration therapy on onset of diarrhea and continue breastfeeding, and to provide a 2-week supply of zinc supplementation. They were also instructed to inform them about the signs for seeking emergency care immediately.
This work takes place in the tribal areas where the government health programs do not reach. The good news is that the efforts by this organization have interested the government and Paribartan has been given recognition and visibility. And now the government is introducing Zinc in their treatment of diarrhea too.

Reducing Stigma of HIV/AIDS
A.P. Medical Society in India, with one of our Humanitarian Grants, has provided medical expenses and adequate caloric intake to 40 HIV positive children. Another 14 who lost their parents to AIDS have been given rehabilitation and psychological support as well.
They have also held awareness campaigns on the signs and symptoms of HIV for 500 school children at all levels, and two workshops for Health Personnel and educators to try to eradicate the stigma and discrimination of the disease. The program continues.

Alternate Energy
In Orissa, Sahara, receiving one of our 2008 Innovative Small Grants, has installed solar lighting in 4 villages. The homes of 221 children have disposed of their kerosene lamps. Thus:
62 households are saving Rs. 80-100/month (not buying kerosene),
221 children are able to study for longer periods,
School attendance has improved and dropouts have decreased.
Health of the children has improve (no CO² from kerosene), and
Accidental fires have been reduced.
The organization is publishing brochures and manuals to distribute to other regions, and have trained youth to maintain the lamps. We are pleased with this very successful project.

Crescent Educational Society formed mothers' clubs in 4 villages with 90% of pregnant women's participation. Education by lecture, demonstration, and film included:
1. Personal hygiene and neo-natal care
2. Importance of immunizations (children were vaccinated every Saturday)
3. Importance of nutritious food (vegetable seeds and plants were distributed and kitchen gardens encouraged) See photo
4. School safety (first-aid kits distributed)
In two of the villages, soak pits were formed. They are designed to distribute household waste water and rain water into the soil structure.  Prizes were given for the "best" healthy baby and articles were published about the project in the local newspaper. News of this successful project will undoubtedly reverberate into the neighboring villages.
Indonesia

National Institute of Health Research and Development has completed their project to reduce the prevalence of children suffering from worm infections by introducing a safe and effective deworming program at low cost. 204 children were tested for worm infestation and of those 91 were positive and 95% of those treated recovered. Most were under 5 years of age. The treatment used was Curcuma, a natural plant easily found in Indonesia. The mothers were also instructed about the importance of treatment as well as the method for preparing the plant. NIHRD recommends twice yearly treatment for all children. Examination of stools then becomes unnecessary.
Kenya
USAWA Development Initiatives's goal was to improve the health status of children in Busia County by surveying homes to determine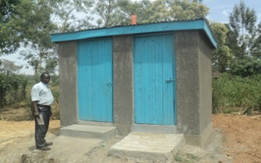 the causes of typhoid, cholera, and other diarrheas, training teachers and others about sanitation, constructing pit latrines, tippy-taps, and water tanks.  20 homes in 10 villages were visited and found both enteric and respiratory disease "rampant," and a need for hygiene instruction. Thirteen school teachers and school management teams were taught the importance of proper sanitation. Pit latrines were constructed in 3 schools. The photo above was taken at one of the Centres that now has a latrine, and two classrooms and the county government has also planned to drill water at the centre which will be used by the pupils and community members from within.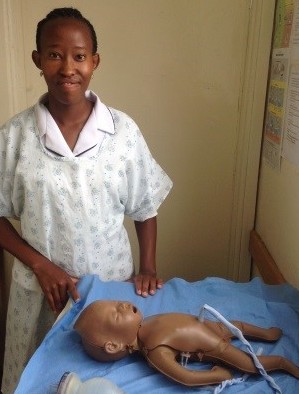 Tenwek Hospital has a program called Helping Babies Breathe that has provided training for 180 neonatal care providers in Kenya and Tanzania at 4 sites and 6 master trainers have been trained at 2 different sites that will continue to teach HBB and sustain education programs. (HBB is a curriculum for neonatal resuscitation designed to train health providers in low-resource settings). The team saw a dramatic drop in birth asphyxia in these first 3 months and they report now that this drama has continued. The PI, Dr. Rule, an American doctor, hopes to continue to work with the obstetric team in designing further endeavors. In the meantime, she is writing the final manuscript for education and quality improvement projects. She says, "The project has been presented at multiple meetings at Cincinnati Children's hospital and both papers have been submitted for presentation at Pediatric Academic Societies in the Spring of 2016." She hopes this project will be a model for other low-resource settings to save newborns and mothers.

Action for Community (ACE) Kenya, conducted an Improved Sanitation and Hygiene Among Children Project by constructing a two-compartment Eco-san toilet (male/female with 2 seats each) at a community school, training community member and teachers on health, environment, water, sanitation and hygiene issues, providing cleaning services to schools to influence discussion about hygiene, and printing and distributing information materials including T-shirts, brochures and a banner to create awareness. They also installed 80 tippy taps in 16 schools and the children were taught to wash with soap after using the toilet. Then, finally, they installed a rainwater harvesting tank at the most needy school. They feel that the they have developed the capacity for community members to identify, develop and manage their own resources. They will continue to monitor and guide them.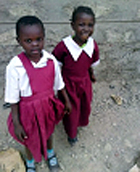 Wema Self Help Group educated the residents of a slum area about treating their contaminated drinking water with Waterguard, an inexpensive, locally available sodium hypochlorite solution, which they provided. Then they encouraged them to store the water in affordable clay pots with lids.  It was also necessary to teach the children to wash their hands before eating.  They partnered with a community medical clinic to collect data about the incidence of diarrhea and discovered that there was a significant drop in visits after the project implementation, improving health and saving the family funds. This encouraged the community to continue treating their water.  They have reached over 6,000 children in the selected area and another 1,200 primary school children. This is their final report.

Achung Kenda Progressive Women Group have designed and moulded 180 soapstone water dispensers (pictured) in 20 schools as well as tripod stands to hold them. They were distributed to 20 preschools with the highest incidence of enteric disease. The team then made visits to evaluate the level of usage and success of the dispensers. They expected that about 70% of enteric diseases would be reduced with this project.

Kared-Fod Women's Group project involved supporting fish farming, producing a yellow-fleshed sweet potato, and peanut butter, all high in nutrients, with a promise for better child health. The group acquired an electric mill to grind the peanuts (pictured here). And they also made juice from the potatoes, which are high in Vitamin A. Peanuts are a good source of protein. The project has also created employment for the group and a market for their products.

Umoja Women's Group, a recipient of a 2006 Small Grant in Kenya, set out and succeeded in the training of caregivers in the health issues of their children and they in turn are now able to train others. Thirty children living with grandparents were the beneficiaries of this project.
The group built a cow shed, now have four cows, and learned that keeping them safely in the barn protects them from ticks and tse-tse flies. These are providing milk for the children. Three acres of grassland has been planted to provide feed for the cows.
A new project was developed in the already existing chicken farm which was increased by 100 additional chickens. The community began bringing in their eggs to be hatched by the farm and then collect the chicks later leaving behind 3 of them as payment.
With a 2006 Small Grant, Community Support Initiatives set out to improve the health of orphans and other needy children by producing honey and edible oil from sunflowers. They successfully trained caregivers in bee-keeping and sunflower production to create a sustainable program of healthy foods. Thirty beehives have been purchased.
Already, 2,000 litres of edible sunflower oil have been produced benefiting 30 households. Soon they will begin selling the surplus oil to improve household income by 20%. Another outcome of the endeavor is that the family goats are fed the seed cakes from the sunflowers and then give nutritious milk for the children. Two hundred children have benefited from this. The organization discovered that, in fact, three villages have reported a reduction in visits to local health facilities. And they say 50 other community members have made inquiries about running these projects.

The Kodera Women Group, members of which are seen in the photo admiring their new peanut milling machine, has completed their project to manufacture peanut butter and thereby to improve the health of the children in their community. Peanut butter is rich in Vitamin A, protein and carbohydrates. The group conducted training of 76 local farmers, with onsite training in production, packaging and handling and marketing. Women were given the skills of machine operation.
From the period of April to June 2009, the group managed to produce a total of 938 tins of peanut butter for marketing, with much more expected after harvesting time, thus proving that they could provide a sustainable source of income.
Madagascar
Opportunity Solutions International received a 2010 Small Grant. They are developing innovative ways to distribute and ensure the use of insecticide-treated bednets to prevent malaria.
They have been able to train a staff of surveyors and identify a region in the rainforest which is underserved. But the project has been delayed because they are developing a new technology to monitor the use of nets.
Mali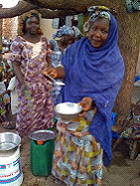 Mali Health has worked to improve child survival with increased access to primary care for the poor, increase the communities capacity to respond to health needs, and develop a replicable model of primary care services. They write, "The training of community health workers reinforced their behavior change communications and medical techniques, such as ORS preparation (see picture), malnutrition screening, and detecting respiratory infections." Then "approximately 450 mothers and caregivers from our beneficiary families have been trained in how to prepare ORT through small group demonstrations." They managed to have 200 children admitted and treated at their partner health centers, supporting the treatment of malaria, respiratory infections and diarrheal diseases.
Their latest activity involved gave demonstrations on access to clean water, impacting 1600 children. Further, it is believed that about 6,000 children under 5 years received immunizations (a government program) because the organization funded 30 CHWs to spread the word, especially about the national campaign against polio. An article was printed in the official newspaper. The headlines in French: L'ong Mali Health et Child Health Foundation Viennent En Soutien Aux Enfants Vulnerabbles Dans Les Zones Periurbaines Du Mali.
Mali Health Organizing Project sent their final report of work they have done which they entitled, Action for Health. This project which has been throughout the year working with families to seek early care when their children are ill by taking them to a free clinic accompanied by a Community Health Worker (CHW), and the importance of immunizations, bednets, and hand-washing. 800 children were enrolled.
The primary purpose of the study was to educate the mothers to take responsibility for their children's health. CHWs were important in this venture. The final activity was to interview the mothers to evaluate how much they had retained.
The investigators hoped to reduce prevalence of common illnesses with this activity, but unfortunately they are not there yet. A dent has been made but they have a way to go to meet their goal. We are pleased with progress they have made so far and hope they can continue.
Mexico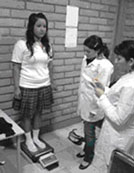 The Center of Research in Food and Development (CIAD) received two more grants in 2009.
1. Iron and Zinc are important nutrients in adolescence. During this period, the demand increases because of accelerated growth. CIAD is in an area of NW Mexico where the prevalence of this nutrient deficiency was recorded to be higher than the national average. This study set out to investigate the iron status and zinc levels in adolescent women (174 agreed to participate) to establish their association with dietary consumption and absorption inhibitors.
The researchers found that there was a low prevalence of anemia in the girls, but the high prevalence of low serum zinc levels and low consumption of zinc was significant and must be attended to. They are hoping that the government that gives supplements to pregnant women will see the importance and include adolescent women. The Foundation is very pleased with this excellent final report.
2. Another project by CIAD has sent a final report of their very well done study educating school children about good health and then collecting data to determine how effective it was. They had received a Small Grant from the Foundation in 2006 and used information from that study to carry out this one.
Stool samples were processed and data concerning socioeconomics, parental education, household condition and income were collected at the beginning and then nine months later. The educative process consisted of four topics: 1. Feeding and hygiene
2. Environmental care
3. Prevention of gastrointestinal infection
4. Self approval
A questionnaire was designed to identify changes in the children's behavior.
The study was implemented in one suburban and one urban school with 245 and 324 schoolchildren respectively. Two other schools (1 urban and one suburban) were controls.
The purpose of the study was to determine if these strategies would improve the health of the children, i.e., reduce the intestinal parasites infections. The investigators found that indeed most infections were reduced in the suburban schools, but did not see any reduction in the urban schools. This they believe may relate to poor participation and low parent availability.
Other successful outcomes include adoption of more healthy food for sale during break time.

Emergency Relief
Between the first of January 2009 through August 2009, Direct Relief received $22,759 in Ceralyte donated by Child Health Foundation that was distributed to locally managed health facilities in 19 countries suffering from natural disasters. Later they dispatched a second round of aid for residents of Baja California affected by Hurricane Jimena earlier this month. Oral rehydration solutions, manufactured and supplied by Cera Products Inc, are one of the most requested items during emergencies, when water supplies are compromised and diarrhea is epidemic. Dehydration can become fatal if not treated.
Nepal

Nyaya Health evaluated the implementation in rural settings of an innovative, low-cost approach to making culture-based enteric fever diagnosis available in settings without electricity or trained laboratory personnel. According to their final report the test was used on 118 pediatric patients going to the hospital with fever. Blood cultures were obtained and revealed that 113 of the children were infected with Salmonella typhi or paratyphi. They say, "This study, in partnership with the Child Health Foundation has allowed us to test and pilot a key capacity for future diagnosis of enteric fever in a rural health setting."
Since this study, they have changed their name to Possible.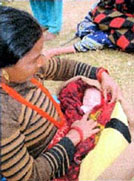 Nyaya Health in Nepal has developed an innovative program to address the significant morbidity and mortality caused by chronic malnutrition. In this rural study area, they have abandoned their original plan, which was to have a mobile clinic and then follow-up with Community Health Workers (CHWs), because they got help from the Nepali government to renovate a hospital. They earlier had trained four of these workers, to oversee 400 children.
Thus the procedures of the CHWs have changed. Now when Nyaya discharges a patient from the hospital, they are given a "ticket" and a CHW is officially assigned to visit them, giving them the nutritional support they need. They believe now that accountability has been improved, they will be able to move forward to accomplish their goals.
Nicaragua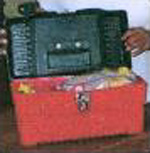 Tasca of North Carolina investigated fecal contamination by detection of bacteria producing H2S in rural water supplies in Nicaragua. Working with the Nicaragua government, they, with a simple, innovative field-test kit, have trained hygienists in their use and then distributed them to two areas of the country. This action has the potential to improve the health of a population of about 460,000.
This kit was designed to make the need for a laboratory unnecessary by using sterile plastic bags for the samples rather than glass bottles.
When contamination of the water was found, the hygienists returned to find and implement solutions, perhaps chlorination or recommending the boiling of the household water. Dr. Harvey, investigator of the project, says, "I was very pleased to hear that in communities where the tests had shown fecal contamination, the people had responded willingly to the recommendations and there were documented instances of improvement in water quality.
Nigeria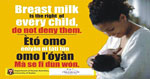 University of Ibadan, Dept. of Nutrition (2009 Grant) used their grant to educate pregnant mothers on exclusive breastfeeding, immunizations, and micronutrients. Four rural areas were selected for the project, reaching 5,000 people.
The project was divided into 3 phases. First a survey was done involving 339 mother/child pairs. Then the nutrition education phase which used innovative methods such as drama, focused group discussions, audio-visuals, and posters such as the one above. The 3rd phase was a monitor of growth.
Education focused on teaching pregnant and lactating mothers exclusive breastfeeding, immunization, micronutrient supplement availability and sources, hygienic environment and the provision of care for their children, using community drama, focused group discussions and audio visuals in their local dialects.
They also provided skills training for 50 women for income generation to overcome poverty. We are pleased with this very fine report and the accomplishments.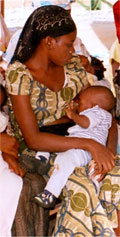 Eclipse Development Initiatives (2006 grant) finalized their Sweet Mother Program, empowering parents and families with knowledge, resources, skills and behavior to ensure safe motherhood, healthy children and a good start in life for newborns. They used counseling sessions and visual and auditory aids to promote breastfeeding, immunizations, and oral rehydration therapy, and treated bed nets to prevent malaria.
See newsletter 2/08 for more description of this very successful project.
Pakistan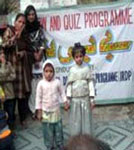 The Integrated Rural Development Programme (2008 Small Grant) gave about 900 poor, uneducated mothers of 7 slum areas awareness on nutrition, micronutrients and child health, including breastfeeding and use of oral rehydration therapy. The same number of children have been enrolled in a regular regimen of growth monitoring.
A quiz competition with prizes and a baby show with puppets and actors dramatizing child health were held in these same cites and all took part with great enthusiasm.
The organization gained admiration and approval from the community for their efforts, and there is no question that such education is passed to many others as well as to their progeny.
Mir Jaffar Khan Jamali (MJKJ) Foundation in Pakistan implemented a project in their area to provide curative and preventive health services for children.
In this locale, as many as 87 of every one thousand children die annually from such diseases as diarrhea, pneumonia, malnutrition, malaria, and hepatitis. To accomplish their goals, with a 2006 Humanitarian Grant, the organization established a clinic and supplied it with medicines to treat and immunize 1608 children, as well as other members of their families.
They also trained and equipped 10 health workers from various locales in remote areas of the district to serve by informing their communities about basic hygiene practices and family planning. Thus they spread the good news.

The aim of the Blue Veins project in Pakistan, a 2007 Small Grant recipient, is to bring down child mortality by creating a supportive environment for exclusive breastfeeding. Only 16% of infants less than 6 months of age are breastfed at present, and lack of breastfeeding is one of the major reasons for mortality of infants.
They say in their final report, "The project by any account can be viewed as a success. The increased amount of awareness towards women's right to breastfeeding represents a vast cultural change."
The workplace was the main focus of these meetings in order to give the women rights to breastfeed on the job, since continuing work is so important. Exclusive breastfeeding for six months was encouraged with continuation after other foods are introduced. A majority of women, they learned, were not aware of the issues important to their baby's health.
The picture is from the comic book they have produced for teaching children.
Blue Veins project received another grant in 2009 and they are now debunking the myths associated with breastfeeding. A survey was conducted among 300 women from various backgrounds to discover what myths needed to be addressed. A booklet was produced explaining the misconceptions, as well as workshops, which have been accepted with much cooperation. A follow-up survey will be conducted.
Palestine
Health Forum addressed the major factors that contribute to the high infant malnutrition in the Al Amari refugee camp (West Bank) and that lead to increased susceptibility to disease and death. The objective was to reduce malnutrition through early onset and prolonged duration of breastfeeding.
More than 60% of the population of 10,000 in this camp are children, and 205 of these were chosen for an initial survey to discover breastfeeding practices and what educational methods needed to be implemented. Questionnaires and interviews were used for the research.
A mother's workshop was held to stimulate understanding of the need to breastfeed exclusively for at least 6 months and to help with introducing complementary foods after that age. It was found that more workshops need to be held and funds will be sought to hold more.
Rwanda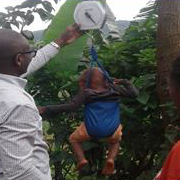 Youth for Social Change has set about to detect the early signs of malnutrition in children and then provide sustainable solutions. They elected the project leaders to conduct the evaluations and initiate partnerships with health centers, and trained 10 volunteers in a workshop on rice growing, good agriculture practices, post-harvest techniques and safe chemical use. They then made twice a week visits in the communities. Community Health Workers were also trained to take the necessary measurements and give nutritional advice. Then carrying out these activities was done in the last half of the project year. During this period they discovered that it was important to include maternal nutrition also since pregnant women of poor nutritional status deliver underweight newborns that are more at risk of postnatal mortality.
Women's Empowerment Program, Rwanda, is addressing neonatal mortality by promoting bubble cPap, a low-cost, noninvasive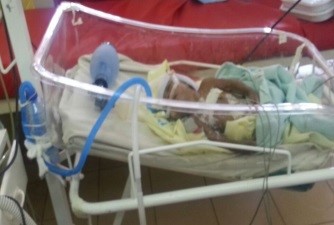 ventilation strategy, and Kangaroo care. The 25 nurses they recruited to work in various hospitals teaching this procedure to save newborns lives. As a result, they have been able to make 5,000 low-cost bcPaps, reach 2,000 nurses and 40 practitioners in 80 health centers, and thus far save 7,765 neonates. They also continued the Kangaroo care program which has reduced hospitalization. Community Health Workers have been trained to follow-up the mothers at home. The success of this program has spread and the PI is so pleased with the success that he thanks CHF and hopes they "cover the whole country."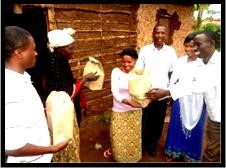 URYD set out to produce Rwanda nuts and use them to reduce child malnutrition. The 25 volunteers that have been trained have been able to make the nuts and to transmit the knowledge to mothers. They also provide occupational therapy to the malnourished children to help build up their physical strength. They have supplied enough nuts to provide them to 39,560 children. Over 30,000 mothers are now harvesting the nuts and giving them to their children, and also have learned to give occupational therapy at home. The product is made with peanut paste, vegetable oil, powdered milk, powdered sugar, vitamins, and minerals…the same ingredients as Plumpy Nut, but made locally in this agricultural area.

The Transformational Leadership Center, Rwanda, has installed rainwater tanks at 3 children's Peace Libraries, so that when children get clean water there they are sensitized about drinking clean water at home. They also built a handwashing tank at one of the libraries (the others already have the tanks) and held 5 sanitation workshops where 225 children learned the importance of good sanitation.   The video Magic Glasses (see The Magic Glasses on YouTube) was shown at the training sessions teaching children to use bathrooms and wash hands. Lillane, one of the children, said, "I did not know how I get worms. Now I will not get more worms. I will wash my hands and drink clean water. I thank you for this training."

Burera Volunteers For Development Association (BVDA) had as their goal to provide over 36,000 people of their community with sustainable information regarding water related diseases prevention methods, and to provide relevant information to 2000 community health workers regarding signs and symptoms of enteric diseases and oral rehydration therapy (ORT). They were successful in carrying this out using an instructional video (below), training volunteers to visit homes, and holding 6 awareness marches. Pictured here, the marches averaged 3200 youths each. The sign says, "The future is yours, take care of your life."

MEDSAR, recruited 30 medical students from the National University of Rwanda (NUR) who worked as peer educators, and conducted a 3-day training of volunteers event where they learned what is necessary to teach the community about enteric diseases. The volunteers worked with mothers in sessions and one-on-one, and learned not just to prevent the disease but to treat with oral rehydration therapy.
They also trained Community Health Workers who are provided by the government with cell-phones and can be contacted when needed. Very interesting are the 44 awareness marches held in several locations. In the picture you see some of the marchers, mostly youth, winding around the villages with a sound system of sorts to spread the news of disease prevention.
Sierra Leone
Taia Development Program, Sierra Leone (Humanitarian), proposed originally to install solar in the Bai-Largo Community Health Center,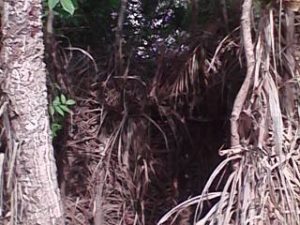 but while waiting to hear from us they discovered that that project had been paid for by others, so they did an assessment of the Health Center and discovered that with our permission they would construct a bathroom for the pregnant women who come to deliver, maintain the drainages to prevent mosquito breeding, provide additional delivery beds, and some other miscellaneous things. The bathroom made of sticks and palms (pictured here) has been replaced with a constructed outhouse. They are pleased that it can now be fumigated and kept clean. Our funds also purchased shelves for medicines and books, and delivery beds and chairs. They also used some money to maintain the drainage system.
Deeper Mission reports that their original proposal, based on procuring South African-designed waterless, solar composting latrines

(Eloos) from Ghana, which was to improve community health and reduce enteric disease due to pit latrine-contaminated ground water wells on the grounds of Mercy Hospital was stalled. Due to the Eloo distributor in Ghana closing, the nearest available Eloos were in Germany which increased the per unit and shipping costs; additionally, timing prevented sending a second Deeper Missions team to Sierra Leone in 2012 so they relied solely on the local contractor to secure and guide local labor. Fortunately, this was successfully executed.
Another fortunate development was the appearance of a volunteer, Mohamed Nabieu, a local young man, studying Environmental Sciences and Development Studies. His only interest was to contribute to and objectively observe the successful completion of the project. They were able to obtain additional funding and the project was a success. We are pleased to be a part of this development and expect that the health of the children in the community has been improved.
South Africa
Didi Preschool and Creche (Humanitarian 2009) is providing balanced feeding and proper care for poor children. They report that their project has been so successful that they have attracted children from other child centers to attend the sessions on brushing teeth, washing hands, eating healthy foods and drinking clean water.
They used children's activities to keep the kid's interested, such as drawing, coloring, and giving out prizes. Hand-washing was a major activity and they created an octopus character named "Handy" whose picture is on posters above the sink to remind the children to wash.
Included in the instruction were visiting the dentist, drinking clean water, and eating healthy foods.
We are pleased with this project and expect it will greatly improve the health of many children.
Tanzania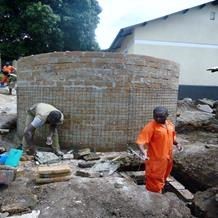 Pamoja Self-Help Group report that 10 water storage tanks have been constructed and completed, and 160 meters of rain water harvesting gutters have been constructed and connected to the water tanks. A total of 1,150 pre-school children have been educated on handwashing after toilet use and before eating meals both in school and while at home. As a result, cases of enteric diseases have dropped by approximately 80% per month. This has been confirmed by the reduced number of reported cases as seen on the school register where data is stored for children referred to the clinic. They wrote, "I should not forget to tell you that the beneficiary community is also very grateful to CHF."

Vitendo Self-Help Group, in their final report say that the organization's plan was to help the people themselves to make clay pots with secure dispenser taps to store boiled water. One hundred adults were trained to make these and 900 families were given instruction about the importance of drinking clean water to prevent disease. They conducted a survey and found that 950 families have adopted measures to prevent the spread of enteric diseases and have found that there has been a drastic reduction in these diseases among the children due to drinking clean water. They then held an open forum to spread the good news to the government and other communities.

Act Ngono, Tanzania, set out on a WASH (water and sanitation) project and have started work on a VIP toilet structure, pictured here, at a primary school. They contracted an engineer and identified an approved health department building plan, and then proceeded. They will continue with plans, needing to finish the roof and the doors, and then to harvest rainwater. They, of course, expect this project to improve greatly the health of the school children. This project is funded by Esther Lazarson of New York City.
Uganda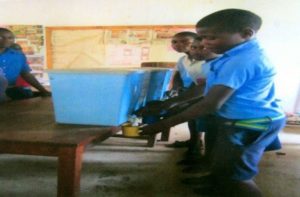 Orphans and Vulnerable Children Aid and Support Org., Uganda. set out to improve household water quality and decrease diarrheal diseases among children in a population lacking potable water and were successful. They did this with a project to make clay water filters and distribute them.  100 Village Health Promoters were trained on how to service clay compacting machines to make the clay filters from cheap local products, costing about $1 each. They made 1,000. They held 4 radio talk shows, created posters, and made a video which is shown on our Facebook page.  The datum has indicated that on average per Satellite health center, the cases of diarrheal and respiratory incidences have reduced by 85% among the pilot villages that were targeted by the Clay water filter project (600).
Mission for Community Development (MCODE) conducted a project called "Alive at Seven," educating community members about

disease prevention. So far they have held workshops to train community health promoters, provided deworming to children, trained caregivers about proper mosquito net usage, (to prevent malaria), promoted breastfeeding, and distributed mosquito nets.
photo: Over 300 children were dewormed

Women Protection Society Uganda, report that "the school semester opened with a lot of children's joy and excitement for safe water availability from the Ferro water cistern during this dry season." Two of these cisterns holding 20,000 liters of water have been built (see photo) at two schools with a total of 4,392 children ages 2 to 16 years. They trained local masons in the community to do the building with sand, water, and cement. These are very durable, low-cost and local materials.
Rain water samples were collected from the project site and analyzed and found that the chemical and physical properties were suitable for drinking. This will certainly contribute to better health for the children. They feel that community awareness has been increased and they hope to be able to get more funds to continue working at other schools.

Life Concerns, in their final report, tell us that they learned a lot from their project to improve the quality of drinking water of school children by using sunlight to inactivate pathogens that cause diarrhea. They made several visits to the 5 schools in the project and found that they needed to train the children repeatedly. The process was to have them bring their plastic bottles of water to school and put them in the sun. They learned, although, that the children like this method because it is simple and low cost, and because it improves their health.
Furthermore, when they began to use this method at home, it reduced the cost of firewood, kerosene, and of course, medical care. And the environment benefited also.

The Organization for Research, Extension and Training Agriculture (ORETA), in 2010, launched a project to reduce malnutrition in infants, children, and pregnant and lactating women through food-based approaches. They say in their final report that before they introduced orange-fleshed sweet potatoes, the illness and death among children under 5 years of age in their community had been much higher, especially among those with vitamin A deficiency. The overall mortality was reduced by 25-30%.
In their interim report they told us that the women were given juice blenders and are now feeding fresh juices of mangoes, oranges, and some vegetables to their children, as well as selling it to have a little extra income.
Poultry farming has also been included in the project. Thirty chicks were given to each of 20 women for them to rear for eggs for themselves and for sale But it seems the sweet potatoes were the most effective in improving the children's health because it provides a high amount of beta-carotene. The benefits include also less money being spent on medical costs, children missing less schooling, and easy availability of inexpensive family food.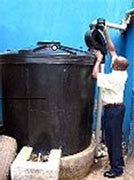 Friends Orphanage School (2011 humanitarian grant recipient; see previous report of their 2009 grant below) has submitted their interim report in which they say that the rain water harvest tank has been installed and they just have yet to purchase water cleansers, water supply plastic pipes with water tank wire nets.
In the photographs kids and local women are happy to have free safe water again for better health.

The Friends Orphanage School (2009 Humanitarian grant recipient) As a result of the funding, 80 children received the benefit of a nutrition and counseling program, 50 girls were chosen to receive personal sanitary materials, and 100 received books, pencils and pens. All of this, of course, contributed to increasing both their physical and mental health.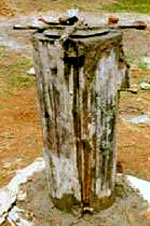 The Women Protection Society in Uganda, has been creating bio-sand filters to help prevent children from becoming ill from waterborne diseases, such as typhoid and diarrhea.
More than 32 households are now using the filters and have improved other sanitation practices such as covering food, washing hands and using latrines.
Financial constraints have prevented them from being able to test the water to discover the bacterial count, yet they have demonstrated a significant reduction in episodes of water-born disease, as well as worm infections, jaundice, and eye and skin infections.
Households save 1-2 hours per day not having to fetch water and this gives them time for such things as vegetable gardening and even economic activities. It has also clearly been an empowerment for women.
USA - California

Soul Food For Your Baby, a project carried out between the Maternal, Child and Adolescent Health Program and Great Beginnings For Black Babies hoped to learn about the attitudes in order to address the low breastfeeding rates among African Americans in South Los Angeles A total of 81 mothers, fathers, and grandmothers participated in a series of focus groups designed to access the attitudes, influences and experiences toward breastfeeding.
The data will be used to create a culturally sensitive curriculum for messages in a marketing campaign, which they hope to implement in 2010.
They have also shared their findings at several conferences.
USA - Minnesota

The American Indian Family Center is working to increase breastfeeding rates in communities of color. They hope to create classes all over the capital city so that no mother goes without the opportunity to be educated about the health benefits of exclusive breastfeeding.
The grant paid for three doulas (A doula is a trained mother helper) to be trained as lactation counselors. These three then trained others to conduct Mother Circle breast-feeding support groups and assist new mothers in choosing to breastfeed for at least 6 months.
Their survey in September 2010 found that of those mothers who had been assigned a lactation counselor during the past year, 55% were still breastfeeding, averaging 5.6 months duration. In another survey in December the figures were 40% with an average of 7 months duration. Since before this breastfeeding was near zero, this was considered a success.
In the words of one of the promoters, "By respecting the intelligence of the participant and providing her with accurate information, we created an atmosphere that promotes independent thinking, thus establishing a healthy rapport."
USA - Rhode Island
With the goal to tackle the growing obesity problem in the U.S., researchers at the University of Rhode Island in partnership with The Rhode Island Community Food Bank and the Kids Cafe conducted a study using Bod Squad, an innovative video developed by the nutrition faculty at the University.
A total of 234 low-income, multi-racial, urban boys and girls 6 to 15 years of age were asked to answer questions on an interactive video. Questions involved demographics, food behavior, physical and sedentary activity levels, and body image perception. The survey showed that 40% of the sample were overweight or at immediate risk of overweight. Interestingly, heavier children did not perceive their body size and shape accurately.
The team found the activity to work well and it will be used further by the Providence School System and others to craft more appropriate interventions related to promotion of healthy weight in low-income children.
Viet Nam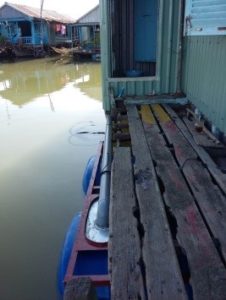 Mekong Delta Youth is conducting a project that is meant to raise awareness of children's need for hygienic latrines. Most of this targeted community live on the water or are frequently flooded by it, they have introduced and constructed the flooding hygienic latrine, which floats under the toilet and filters the waste before it goes into the water. They are constructed of locally available materials and cost about $200 each.
56 people, 23 of them children were given a latrine in their homes (15). Then 86 people were trained in 6 courses to teach how to use the latrines and to encourage others to build them. Government officers were also invited. They also hoped that the men constructing the latrines would be hired by others in the community.
Since this prevents open defecation, we can only assume that it has a significant impact on the children's health and safety.
Zimbabwe
The Institute of Water and Sanitation Development aimed to help the poor have direct access to clean drinking water by installing biosand filters. They held a training workshop and installed 15 filters at 12 households and 2 preschools. After testing, they discovered that in fact that water needed to be treated again after filtering. Unfortunately the recipients were too poor to do that. The Institute feels much work must still be done and they plan to publish a paper of their results. Yet learning that the biosand does not purify the water is certainly a positive finding.