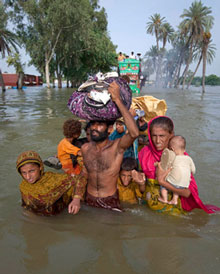 The devastation caused by flooding in Pakistan has us all wanting to help more. According to UNICEF, the lives of 3.5 million children are under threat. You have heard and seen the rest from the media. Child Health Foundation supports an organization there which has reached out to us for emergency funds and we would like to offer this opportunity to everyone who wants to help.
Because this is a grassroots organization working to improve the lives of the survivors with food, clothes and medicines, we feel that the money you give would be used wisely and we assure you that all of it will go there.
Click here to give and write Pakistan under comments.