Because of our official status, all donations are tax deductible. Child Health Foundation as a 501c3, is subject to federal guidelines assuring funds will be put to good use. Every year, an audit is conducted on Child Health Foundation confirming reported use of funds. Every donor is welcome to receive our most recent audited financial reports. Please request a copy of our Annual Report for more details.
Sponsor a Project
We would like to give you the opportunity to sponsor a specific project which would be given your name. This can be done if you make a donation of $10,000 or more. Just tell us where you would like to help and what kind of concern you would like to address. Either individuals or groups can contribute this way, i.e., churches, clubs, etc.
If your donation is to go to ICDDR,B, please indicate Hospital Endowment, the Circle around the Centre, or a specific need in the "comments" box. If you are giving in honor or memory of someone, check that and then later you can indicate names, and other comments.
Your dollars can make a difference. Please send your gift through our secure on-line payment form, accessible through the Give button above. Or mail your check to:
Child Health Foundation
110 E. Ridgely Road,
Timonium, MD 21093 USA
Phone: +1-410-992-5512
Email: contact@childhealthfoundation.org
As a 501c3 organization, Child Health Foundation can offer a tax shelter for your estate. Talk with your lawyer or financial planner to find out more about how you can plan your estate to save children's lives.
Contributions through your Workplace Campaign
If your work place conducts a giving campaign through United Way, Independent Charities, or Children's Charities, you may give through payroll deduction.
You can also make your pledge to Child Health Foundation through your workplace campaign. Our Combined Federal Campaign number is: 11124
The Child Health Foundation has received this seal of approval from ICA, an organization that collects workplace donations. They tell us that, because we meet the rigid standards that ICA endorses, we well deserve this award.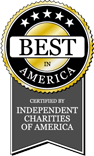 Assist Us With Fundraising
You can be a tremendous asset for Child Health Foundation. Major sustenance for the organization has come through individual donations, particularly through workplace pledges. You can be a Child Health Foundation Ambassador, informing people of child health issues, forwarding our cause and dramatically increasing one of our most critical funding streams.
How?
Every fall United Way, Independent Charities and Children's Charities raise money in the workplace through a "Combined Federal Campaign." State, federal, and private sector employees can learn about and pledge to the charity of their choice. Please help us meet our child survival goals by informing co-workers and friends about us. We can provide you with brochures and newsletters.
Please list us on your Web site. You may copy and paste the following blue text directly into your html source code:
---
<a href="http://childhealthfoundation.org/" target="_blank"><img src="http://childhealthfoundation.org/images/childhealth.gif" alt="Go to Child Health Foundation" border=1 height=83 width=195 align="bottom"></a>  Learn about the important work of <a href="http://childhealthfoundation.org/">Child Health Foundation</a>
---
Your visitors will see: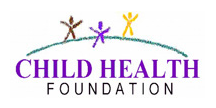 Learn about the important work of Child Health Foundation